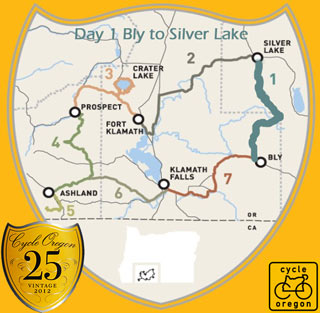 I was up before dawn, as Tim and I planned to start the day's ride to Silver Lake, a 70 mile, 3,300 foot effort, by 7am, so that we could avoid the later afternoon heat. It was 35 degrees outside, and the tent had a thin covering of ice – brrrrr! Everyone had flashlights or LED headlamps, and the camp was already stirring, with random light cones moving about the campground, as people went about their typical routine, repeated more or less each riding day: Visit the toilet, take medicines, dress for the ride, prepare the bike for the ride, break down the camp and insert it in its entirety into the duffle bag, drag the bag over to the semi-trailer truck to be carried to the next camp for me, then head off for breakfast in the mess tent.
I carried out the ritual, then met Tim for breakfast along with 2,000 other riders. For every hour of riding, perhaps 600 calories are burned and maybe 20 fluid ounces of water is lost, so breakfast consisted of mostly carbohydrates, with some protein, and perhaps a quart of liquid to start the day-long fueling and watering process. This morning's breakfast consisted of bacon, scrambled eggs, oatmeal, bagels and yogurt, of which I had some of each, along with 3 cups of skim milk.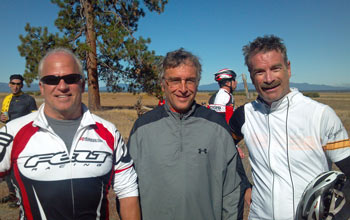 Tim, Tom, Gary. Oregon Scribbler.
Once we finished breakfast, bundled up for the initial cold with long-fingered gloves, leggings, long-sleeved windshells, etc., we pumped up our bicycle tires, filled up our water bottles, and set off for the starting line. There we ran into Gary Hoffman, one of several of Tim's partners who were also participating in the ride.
We started off together, resetting our cycle computers for the ride, and in my case, starting my GPS recording app on my phone to record the ride. (The smartphone is so smart that it served not only for the usual telephone, texting and emailing communications device, but also as a computer to precisely record my rides, an alarm clock to get me up, and as my camera! Cycle Oregon provided a means to recharge these devices each night.) Tim and I are around the same age, closing in on 60, and Gary is perhaps 10-15 years younger, and definitely a notch faster on the bike, but we rode the first 8 miles or so together.
Gary had a flat within the first three miles. While we were fixing the flat, Mark Tomlinson rode by and stopped, another of Tim and Gary's partners, and someone who Tim and I had ridden with many times, to include Cycle Oregon 2002, and he visited for a few minutes and departed up the road; with the flat repaired, we were back on the road, and turned North towards our destination, Silver Lake, on the first of several paved Forest Service roads. Gary and I caught up, having ridden together in Portland in the past, and I pestered Gary, who has a leadership role in his medical group, with questions about the changes going in organized medicine currently.
Our route started above 4,000 feet and ended around the same altitude, climbing mostly gently to around 6,200 feet at its maximum. This partially accounted for the cool morning start. Our extremities were numb for the first hour or so, our bodies indifferent to our lame attempts to offset the cold with gloves and extra socks, but gradually they thawed out. We rode most of the day through sparse pine and sagebrush, with mountains visible to the east; we skirted the Thompson Reservoir around mid-day; it was a lovely route.
On the more extended climbs, of 1 or more miles, the conversation slowed while we labored, and huffed and puffed more than conversed. On the steeper descents, conversation was also minimized, although in this case because going fast downhill is the reward for the hard work of climbing up the long hills in the first place, and all concentration is on safely, albeit rapidly descending. Otherwise, one of the real pleasures of these long rides is to lazily converse with each other, and other riders as they are briefly joined, then un-joined, as riders keep their speeds at what was for them comfortable.
Cycle Oregon provides water and food every fifteen or twenty miles or so, with lunch somewhere in the middle, and these wayside stops provide the tactical targets for the ride, and provide a trustworthy psychological safe haven, particularly when your butt begins to complain about the long hours in the saddle. They also provide a gear drop, where, after it warms up, you can drop off your cold weather gear, to be picked up later in the day at the next camp (nice!)
Tim and I managed to average a respectable 15.5 miles an hour while enjoying the beauty around us, and took advantage of each food stop save the last, as we were well fortified at that point, and were more eager to finish than to take the last break, the inevitable sore butt becoming sorer and remaining longer in the conscious mind, such that finishing quickly becomes the best remedy for relief of back side pressure.
Today's ride peaked in the middle, and the finish was mostly downhill, providing us with the rush of speed at the end; the last few miles emerged from the high forest, and we lost some of the protection of the trees from what was a 15-20 mile an hour headwind, and we finished around 12:30pm with a hard grind into the town of Silver Lake, to be greeted by many of the townspeople, in an always welcome daily ritual.
A high school cheerleading team cheered us across the finish line, with the mayor waving his hat in welcome, and volunteers handing out cartons of chocolate milk for immediate refreshment. Tim got a picture of himself with the cheerleaders, and emailed it off to some of his co-workers, one of whose response was to kiddingly accuse Tim of pedophilia!
While Tim went to find where Laurie had parked the trailer, I went through the post-ride routine of finding the truck that hauled my bag, tipping a volunteer to haul it to my selected campsite, constructing my campsite, then showering in the mobile showers provided by Cycle Oregon (with hot water!), and joining the clean and relaxed population of riders. The end of a long ride leaves me depleted and deeply relaxed, tired but not exhausted; it is a good feeling.
I talked to some of my fellow riders, then settled down to read some Bertrand Russell on my Kindle. (another amazing device; it holds hundreds of books, and holds a charge for perhaps 30 days, so it was perfect for such a trip.) After an early dinner at the mess tent, I joined Tim and Laurie at their trailer, and we relaxed together, talking about our families and reminiscing, while they taught me a new card game.
All too soon, the sun set, 8pm came, the time to retire and rest for the next day. All in all, a great start, and a sigh of relief: The separated shoulder was holding up, and wasn't any more painful than other parts of my body from the long ride!