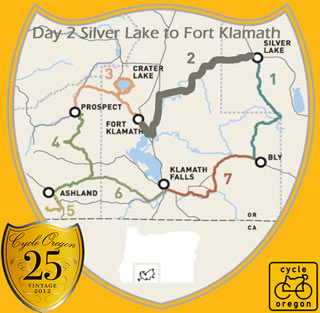 Awaking in Silver Lake before dawn, for a scheduled 7am start for our ride to Fort Klamath, it was every bit as cold as the first day, in the high thirties Fahrenheit, and again a thin sheet of ice on the tent. Despite the cold night, plenty of sleep was to be had, courtesy of a warm sleeping bag and self-induced exhaustion. The camp routine was already that, more routine, and all too soon, after loading up at breakfast, I met Tim for the second day's ride, to position ourselves for the next day's queen stage, the ride around Crater Lake. Geared up for the cold, Tim having added little neoprene booties to ward off cold toes, we set out on a long but relatively light route, warming up slowly on a long and gentle climb through the surrounding marshlands.
It was a day for flying. On this flat route, perhaps 2,000 feet of climbing over 81 miles, Tim and I shared the lead to break the wind, each spelling the other for "pulling" duties. It felt good to be moving fast, and we averaged nearly 17 miles an hour on the bike for the ride, faster than usual for us. We ran across Gary Hoffman several times, but he had started later, so we didn't ride together much, as he tended to be arriving at a rest stop as we were departing. The ride took us through some lovely grasslands and marshlands.
The Cascade range was ever present to the West, over our right shoulders as we traveled predominantly south for the day. Someone pointed out the various peaks to us: Visible was Mount Scott, which sits just off of the East rim of Mount Mazama, whose hollowed out crater is filled by Crater Lake, our destination for tomorrow. Visible also, part of the time, were various other parts of the East rim of Mount Mazama. Mount Thylsen was visible to the North, and Mount McLoughlin, Mount Ashland and Mount Shasta to the South. It was a gorgeous day of riding. While Cycle Oregon participants are mostly Oregonians, there is a reasonable minority of other states represented in the rider population, as well as some foreign countries. We saw and talked to people from Ithaca, NY, Germany, Idaho and Canada.
On the latter part of the ride we rode for 20 miles on Highway 97, a heavily traveled road. Cycle Oregon is very good about finding roads that are lightly traveled to enhance the safety of the riders, and choose routes like Highway 97 only as a last resort; fortunately it has a wide shoulder, and there was copious signage warning drivers about the presence of cyclists. Interestingly, ODOT agreed to reduce the speed limit on the Southern lane for Highway 97 on that stretch to only 40 miles an hour for the day, and on one section, cordoned off a partial lane just for cyclists to help minimize the risk of collisions. Even so, we had one rider fall very hard on a steep downhill near the end of that section, coming out of it with a broken collarbone and various integumentary injuries. Along this section, we met up with Mary Anne, another of Tim's many co-workers on the ride. She recognized Tim as he and I passed her, and picked up the pace to ride with us. After a few miles of riding behind us, taking advantage of the draft, Mary Anne did the responsible cycling thing, which was to offer to lead for a while, which requires more effort. She was very self-effacing, not wanting to slow us down, and then took the lead, immediately raising the pace a mile or two and hour faster! She was awesome: So much for slowing us down. We all three shared the pacing for the next 10 miles, then parted ways at the next rest stop.
We finished in the early afternoon, amidst lively greetings from the folks of Fort Klamath and waving banners, Tim going off to the trailer park, me to my Tent City. After some more reading, I had an early dinner. One of the food servers had what sounded like a New York City accent, and perhaps more telling, the assertive style of a New Yorker, so I asked her if she was from New York City, suspecting that she was from Brooklyn, but uncertain that I could actually differentiate between the differing borough accents, and she responded good-naturedly that she was from Brooklyn, and that it was a good thing I hadn't asked her if she was from the Bronx! I love New York City discourse.
I joined Tim and Laurie for some beer and conversation and card playing in the evening, then headed off for a much needed rest, not only to recuperate from the day's ride, but to prepare for the most difficult day on the route: The ride up to Mount Mazama and then around the rim of Crater Lake. I fell asleep to the promise of a most beautiful day's ride come morning!

<< Previous - Day 1>> Next – Day 3