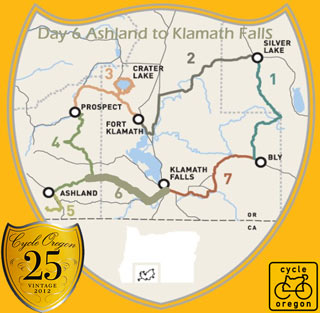 Awakening once again to a warmer morning, Tim and I were ready to get back on the bike again after some recuperation, so we started out from Ashland around 8am to climb the long ascent up Dead Indian Memorial Road that started just a few short miles after the start of our day's journey to Klamath Falls. We were actually climbing right back up the route that brought us into Ashland, which had engendered a great deal of anxious conversation on the rest day, as the descent was remembered by many riders as very steep.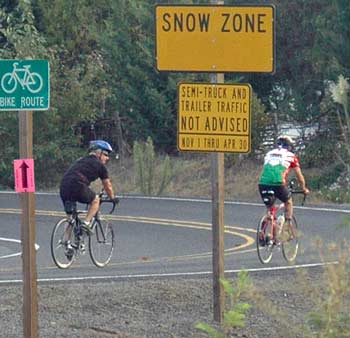 Tim and Tom start up Dead Indian Memorial Hwy. Oregon Scribbler.
Tim's Achilles was feeling much better, but it was still sore, so he protected it by using his other leg more strenuously and lightening up on the power generated by his injured leg. This process is so automatic for endurance athletes; as I described it to my wife Cindy, there is almost constant adjustment when in the saddle. A muscle may be a little tight at the start, so the muscle is used less until it has warmed up, which requires more power from the symmetrically opposite muscle during this time; if your butt is getting a little numb, you shift your weight to put more pressure on the part of the butt that currently feels OK. Cindy's response was something like: "And this is fun?"
We climbed slowly up the big ascent of the Dead Indian Memorial Road, mindful of not just frail connective tissue, but that we would still have a long way to go after summiting such an early climb. (The name Dead Indian Road would probably not have survived modern politically correct speech, but Dead Indian
Memorial
Road? Who could object to that?)
While Nature provided the beautiful scenery, Cycle Oregon did their part to distract us from the hard climb, their best effort being perhaps the provision of a Scottish bagpiper, who stood alone aside the road halfway up the climb, piping haunting tunes to help spur us on.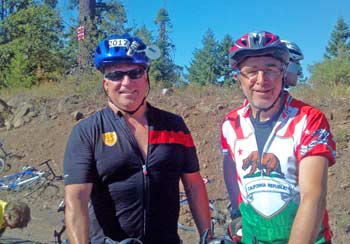 Tim and Tom at the top. Oregon Scribbler.
We finished the climb and rested at the top, glad to have finished the hardest part of the day.
At the rest stops today, there was much discussion of the various plays people had attended, and while participating in such, I was eagerly drinking one San Pellegrino Aranciata soda after the next; these drinks are so much more European in flavor, and reminded me of German Orangensaft sodas, which were less sweet, and contained a generous amount of the orange zest, or peel, which gave them a drier and more bitter taste. I found such sodas in France, Switzerland, Germany and Austria, and really enjoyed them when I lived and traveled in Europe so long ago.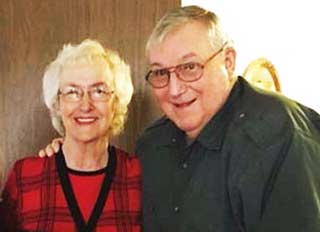 Pat and Sharon Miller. Craig Miller.
Tim and I took our time on this ride, and found it quite enjoyable for that, taking the pressure off of our aching bodies. We arrived intact, and parted ways again for the evening. I had arranged to visit Pat and Sharon Miller in our arrival city, Klamath Falls; they are the parents of my good friend Craig Miller, and I had gotten a chance to know them when they had come to visit and help Craig work on his house and property in the Portland area. They picked me up from Moore Park, where Cycle Oregon was encamped for the evening, and took me up to a high vantage point above Klamath Falls to view the lake and the surrounding mountains – it was a spectacular view. Then they took me to their home and served me the most delicious meal – A gargantuan barbecued steak, twice baked potatoes and a homemade apple pie! Wow! We had a good time talking and telling stories, then they took me back to the camp, I having visibly tired, and we bid adieu.