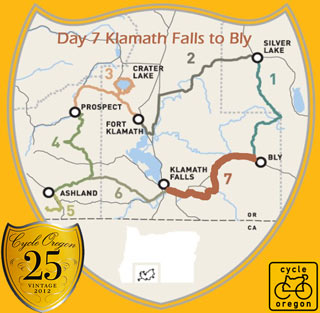 Tim and I started our last day's route, returning full circle back to Bly, early once again, departing from Klamath Falls promptly at 7am. The day's route was the easiest of the bunch. After the first few miles we were diverted onto a paved path, the OC&E Woods Line State Trail and rode it for 8 miles or so.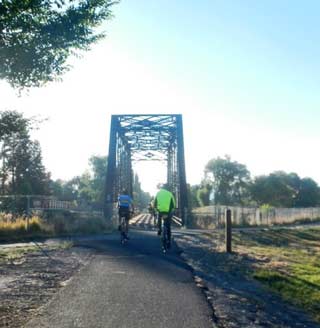 OC&E Railroad bike path. Nancy Yu, Ride Chronicles.
The OC&E refers to the old and now defunct Oregon, California and Eastern Railroad, which was used to haul primarily timber; after it was closed down, parts of the old rail lines were pulled up and turned into a lengthy hiking and biking trail as part of the Oregon State Parks system. Coincidentally, Pat Miller, my host in Klamath Falls last night, was a retired railroad engineer, and had worked and ridden the OC&E! Again the weather was perfect, requiring no cold weather gear, and warming slowly to a warm but not hot sunny day.
Riding along the Lost River in the Poe Valley. Nancy Yu, Ride Chronicles.
Our last day on the road was just as scenic as the previous routes, particularly the ride through the Poe Valley, with the Lost River running between two sets of hills, the valley spread out, and acres and acres of grasses under cultivation, interspersed with rangeland over which cattle were spread out, feeding and resting. There were many hay barns, large open structures with only a roof and nary a wall, under which were stacked hay bales collected for winter feed. We stopped in two of the farming towns along the route for our rest stops, Bonanza and Beatty, Bonanza housing the area's high school, where among others, the children of Bly attended.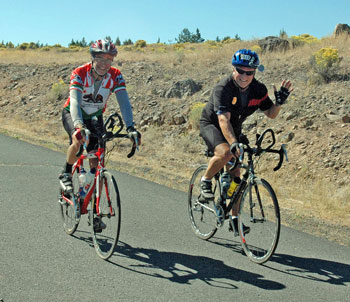 Tim and Tom at the end. Oregon Scribbler.
There comes a point when getting it done trumps leisurely riding. Tim's Achilles tendon was feeling better, and so we began to ride more aggressively, each taking turns pulling the other. In the last stretch coming in to Bly, Tim pulled for 5 miles straight, at speeds averaging 22-25 miles an hour! We finished the Cycle Oregon with a flourish, averaging around 17 miles an hour for the day, faster than we ordinarily ride. As we pulled into Bly, the finish line banners fluttering in the wind, we saw Laurie and the truck and trailer, and stopped there.
The end had finally come to a great week of riding and of spending precious time with old friends. With final pictures and hugs all around, we parted ways, Tim and Laurie for home in Portland, me to the finish line, then for home in Los Angeles.
I rode into camp for the final time, and rode under the finish banner. That felt great! I bought a few souvenirs for some gifts, then got my bag and bike into the car and rolled slowly out of Bly in the reverse direction of the day's route, and was treated to a half an hour or so of Cycle Oregon riders trickling in, going in the opposite direction.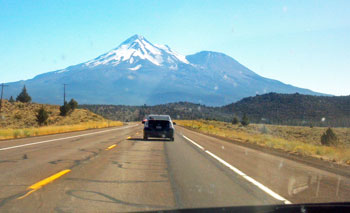 Driving South with Mount Shasta filling the windshield. Oregon Scribbler.
I was on the road south to California and home. A stop in Williams, North of Sacramento, for the night was necessary, due to my general fatigue, but soon enough the next afternoon I was pulling into the driveway at home, greeting Cindy, unpacking my things, and salting away memories of a great trip, one of renewal, of refreshing some of my long held friendships and my love of my home state, Oregon.