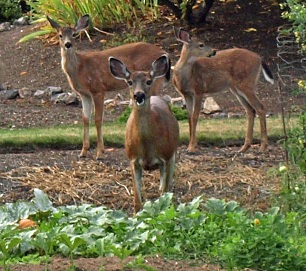 Oregon Scribbler.
Over the neighbor's fence,
glancing without seeing,
the smallest flick of an ear revealing:
deer, ranging in sturdy grace,
staring back with placid gaze.
Joy!
Slow, in utter focus,
doe and fawns linger,
limbs moving, imperceptible,
loud heart beating, imperceptible,
heads one by one dropping to feed.
Eyes widen,
seeing once again a garden
close to harvest,
beasts
plucking fulsome melon leaves.
Alarm!
Bells peal, warn
of seasons wasted,
labor lost.
Duty clashes with dumbstruck awe,
resolving
in rash semaphores
and unseemly hoots.
Hied,
guests become . . .
squatters,
as mother leads
an orderly hasty retreat.
Suburban occasional wonder of life so beautiful,
we part too soon,
each to our own,
feeding and protecting,
leaving,
leaving a mote of eden
and some regret.
. . .
My wife Cindy and I enjoyed, with some regret, this backyard interlude; thanks, Cindy, for the title.
Note: This is the second version of this poem. The first version was published here.  I was trying to make the second more immediate.