Book Book Review, Title How Now Shall We Live?, Author Charles Colson, Rating 2.0, The ghost of Schaeffer past
How Now Shall We Live?

Charles Colson

Book Review
By the time Charles Colson got out of prison in the mid-70's, having been convicted for acts of political skullduggery during the Watergate scandal, he had converted to Evangelical Christianity. How Now Shall We Live was his best-seller, an homage to Francis Schaeffer's view of Western history. Schaeffer was a presuppositional millennialist who in the 1970's left the quiet life of a Christian intellectual to help lead the evangelicals to the heights of political activism we see today in the U.S.
.
Presuppositionalists like Colson and Schaeffer can be recognized by their severe overuse of the term Weltanschauung, or worldview, by way of promoting Evangelical Christian ideology as an all-encompassing definition of said worldview, and by their promotion of the idea that the end times are near. (note 1) Because Christians must compete with other worldviews, compete by God they will, particularly in the political arena, and who better to do that than the ever-pugnacious Colson. The idea that one's worldview shapes everything one does seems rather obvious, but in its application, Colson et. al. over-intellectualizes it, and leave out a good deal of human emotion. Where is fear, greed, lust, tribalism in this worldview? Pushed to the sidelines of sinful behavior, for which Christian ideology has no responsibility. This is no minor point: Colson's / Schaeffer's account of Western civilization promotes the idea that ideological Christianity was responsible for the good, and any ideology but Christianity the bad, with no accounting for the vicissitudes of other less cerebral human motives.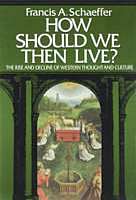 The book is an updated version of Schaeffer's earlier opus, How Should We Then Live, which was in part an intellectual effort to demonstrate the historical superiority of Christian culture and thereby explicitly compete with the secular academy. Schaeffer's book had some interest, as he constructed a summary of intellectual history that was pithy and easily followed, although distorted and incomplete, especially missing the more embarrassing aspects of Christian history that would have weakened his main arguments. (See The Good Old Days of Christendom for an extended discussion on this topic.)
Colson's book came across to me as warmed-over Schaeffer, updated in the simplest way: twenty-four years of contemporary history added to a book that covers two millenia of Christian cultural accomplishment. My interest in the book was rapidly reduced to surveying his arguments around science and in particular Creationism, which can be found in abundance. They turned out to be the usual half-arguments, prominently featuring the cherry-picking of the professional anti-evolutionist Phillip Johnson. I followed the arguments and their sources, and they unfortunately were mostly narrowly construed straw men designed to poke holes in the theory of evolution, and added little of interest to the sometimes lively discussion around religion and science. They mostly turn on blithe dismissal, mis-applications of science, or misunderstanding of what science is and isn't, common among those who claim Biblical inerrancy. (See the superb site Talk Origins for a measured scientific response to the various arguments found in this book on science and Creationism. See Evolution + Intelligent Design = 42 for more discussion about Creationist arguments.)

After reading the book, I learned that Charles Colson's writing contribution to this book was minimal, if not absent entirely. Nancy Pearcey, his co-author, wrote the majority of the book, and continues today as an established 'expert' on Schaeffer's Christian worldview. Most of the rest, if not all, were written by his long-time ghost-writer, Harold Fickett. Pearcey stopped collaborating with Colson after the publishing of this book. Playing hard and fast with the facts seems to have been a life-long temptation for Charles Colson.

Notes
1. The end of the world. Presuppositional millenialists believe among other things that the end of the world is nigh, based on their interpretation of what they consider to be prophetic passages in the Bible. They join a long line of such Christian prognosticators, from the 1st century A.D. to today. The Interactive Bible website provides one such non-exhaustive list with 242 historical Christian predictions of the end of the world, that end coming as early as the 1st century A.D., and the latest coming well in the future.