Cold war soldier memoirs
Memories of my service in the U.S. Army in the '70's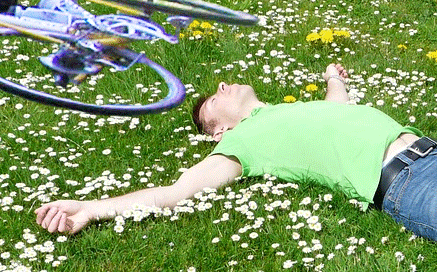 I lie flat upon my back,
having just flung myself to the ground following the full effort of a bicycle ride up a long hill,
breathing deep and hard,
swallowing gulps of restoring air.
I feel my rib-cage lift against the fabric of my shirt as each breath enters my lungs,
my muscles and cartilage stretch to accommodate the air,
then rapidly compress,
expelling a rush of sound.
I attend to the bed of grass in which I lie,
its earthy smell of hay,
its tiny fruiting heads gently scraping against the skin of my forearms,
its stalks waving in the wind and against one another in soft whispers.
I feel the simple pleasure of being alive,
as a gentle breeze flows across my chest,
and the spring Sun shines down and warms my skin.
Around me all else in this glorious moment unnoticed,
ignored.
Just. Breathing.

From memories of a bike ride from Rodalben up Pirmasenser Strasse to the Husterhöh Kaserne, Pirmasens, Germany, 1975.