Book Pocket Review, Title Harry Potter Septalogy, Author J.K. Rowling, Rating 4.0, Imagination Nonpareil
Harry Potter Septalogy

J.K. Rowling

Pocket Review
Books in the Harry Potter series:
Harry Potter and the Sorcerer's Stone
Harry Potter and the Chamber of Secrets
Harry Potter And The Prisoner Of Azkaban
Harry Potter and the Goblet of Fire
Harry Potter And The Order Of The Phoenix
Harry Potter And The Half-Blood Prince
Harry Potter and the Deathly Hallows
This is some of the most imaginative writing I have read since perhaps Tolkien's Lord of the Rings trilogy, or some of the classic science fiction of Asimov and Herbert.
It is in some ways better than those books, as Rowling, while serving up her fascinating and extensive magical world, drew stronger characters and maintained more natural dialog than is usually found in the fantasy and science fiction oeuvre, which is typically strong in imagination and weak in dialog and emotional portraiture.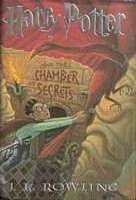 Inevitably, Rowling struggled in certain areas: The ever-lengthening books did not always add as much interest as sheer weight, and the teen angst was way overstated and mundane.
But the overall effort was more magical than one could have hoped, and strong enough to sustain a seven book adventure.